Pond, Creeks, And Bordering Public Land With Views Galore
20.82 acres for $89,500
Red Lodge Montana, Carbon County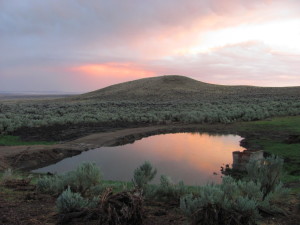 On your new Montana property you'll enjoy your own pond, a spring and creek, antelope and deer hunting, a home site, Ruby Creek, bordering BLM land, recreational opportunities, views, and it's all near Yellowstone National Park.
I've just put this 20.82 acre property with Tolman Pond on the market for sale by the owner.  The pond is fed by a spring at the edge of the pond and the creek flows from there out of the pond.  It shouldn't be hard to get permits to stock the pond with fish and have your own place to fish right out your back door.  Good Montana spring water doesn't get any better than this.  And Ruby Creek flows through the property as well, but only for short times during spring runoff.   I can't begin to explain what a unique property this is.  Its an oasis in the middle of God's Country.
The property also comes with a water right for flood irrigation on this property and the one to the south of it.  There is an option to purchase this additional 20 acres to the south for $29,500 so you could put the ground back in to a field and grow crops or attract the game animals that call these hills their home.
This property sits in the foothills of the Absarokee Beartooth Mountain range where the views are amazing.  From your property you'll know why they call them the Beartooths with views of the jagged rock outcrops and peaks.  The Custer National Forest is only 4 miles west of the property where there are limitless recreational and hunting opportunities.  And the Absarokee Beartooth Wilderness can also be explored on the National Forest where you'll find scenic high mountain plateaus and numerous fresh mountain lakes for some of the best fishing around.  Yellowstone National Park is nearby too where one of our greatest national treasures can be explored and enjoyed.
The town of Red Lodge, Montana is a short 25 mile drive north of the property where you can find all the amenities as well as the Red Lodge Mountain Ski Area.  Red Lodge Montana is a quaint Montana town with all the amenities you'll need for down to earth Montana living.   And town of Cody, Wyoming with all its history and the east entrance to Yellowstone National Park is only about 50 miles to the south.  On this Montana property you'll have it all with quiet country living while still being close enough for a quick drive to town.  As another option, you can take the old historic Meeteetse Trail Road an even shorter 12 miles to Red Lodge to enjoy an evening on the town.
This 20 acre property borders federal BLM land to the east for further recreational and hunting opportunities right out your front door.  There are thousands of acres of BLM land that border this property.  And that's not to mention the National Forest just a few short miles to the west where you'll be able to hunt for elk and deer, fish, and hike as much as you'd like.
Power is about 2 miles away, so you might decide to choose from one of the great alternative energy sources now available.  The property also comes with a relatively standard set of covenants designed to protect you the property owner as well as the natural beauty of the valley.  And the property is almost completely level for maximum usable space.
If you want to find out more about this property or the area, just click on contact owner.
Click here for other properties that are also available in the same area.