Buy Montana Land
Montana Land For Sale By Owner
Buy Montana land directly from the owner!  Available now are recreational, investment, and hunting property in Montana for sale by the owner. If you are a buyer who wants a piece of the Montana dream, then check these properties out. Most of the properties are adjacent to public lands such as National Forest, Bureau of Land Management, or State Lands providing easy access to additional recreational ground.
Property Quick List
Click on any of these links to see a detailed description, photos, and maps of these great Montana properties For Sale By Owner.
Montana Land For Sale By Owner
Land in Montana isn't getting any cheaper. If you are looking to buy land, Montana is the last best place and the best way to buy without the middle man is to buy Montana land for sale by owner.  Now is the time to make an investment whether you want some land so you can move to Montana, are looking for that perfect recreational, fishing, or hunting get a way, or are looking to resell the property and make money.  All this land is Montana land FSBO (For Sale By Owner).  
All these Montana properties are unique in their own way, so take a look at the links on the right and search for what you like the most.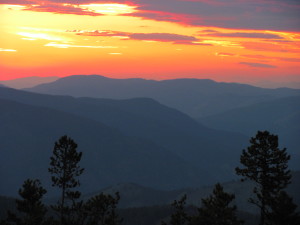 About the Website Photos 
The photo at the very top of this page was taken from the Stevensville property. Wouldn't it be nice to wake up to this view every day? The sunset photo found above is what you'll enjoy from the Rock Creek Divide properties.  It's like you're on top of the world looking down!    
                  Montana Land FSBO
Montana Land For Sale By Owner – Buy Montana Land